Kayak Rentals
We rent everything you need to Kayak Horseshoe Bend. We have single and double person kayaks for rent. Kayaking is an easy sport and anyone can do it. The river runs at about 3 mph so you can either paddle or just float and make it down no problem.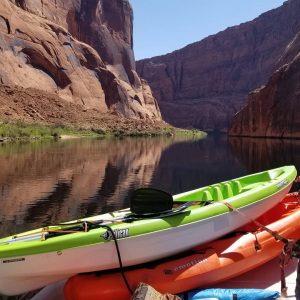 Life Jackets
We have all the gear, you just show up and we'll haul you up river so you can kayak down horseshoe bend. We'll make sure you're equipped to kayak horseshoe bend, no matter what you need.

Canoes
Would you rather ride a little higher and safer in a canoe? No problem. We have canoes for rent when you come tour lees ferry with us.